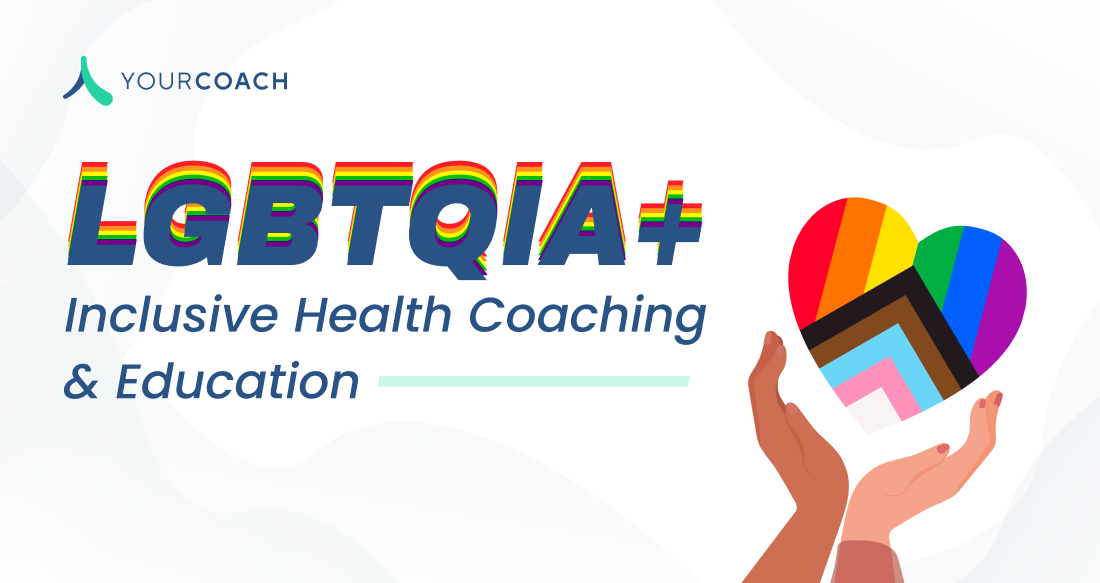 It goes without saying that we're endlessly committed to providing more opportunity, more accessibility and more inclusivity within the world of health coaching. This means we approach every touchpoint with DE&I in mind—our Symposium event always includes sessions that unpack how to coach more inclusively, our Scholarship application considers how candidates will incorporate DE&I in their coaching approach and our Deep Dives consider diverse populations when reporting on health issues and disparities (and call for these gaps to be closed).
Pride Month is not an excuse to rainbow-wash or feign fake commitments to the LGBTQIA+ community. For us, it's an opportunity to reaffirm our longstanding commitment, highlighting best practices for coaches, from coaches who have exemplified commitment to DE&I, as well as for organizations at-large, with our longtime partner, Violet.
In today's blog, we share important perspectives to continue to educate ourselves, and our community, on how to serve as better allies to the LGBTQIA+ community.
At the individual level, health & wellness leader, Max Avruch, shares best practices for coaches. 
Drawing on his 10+ years of experience leading innovation, DE&I, people experience and coaching programs (most recently leading the health and wellness coaching arm at Walgreens Health), Max connected with us to share his perspectives on coaching more inclusively for the LGBTQIA+ community. 
"It all starts with what coaches are so good at: empathy, active listening, curiosity. Being intentional and showing up with attention in conversations with members of the LGBTQIA+ community is so important because then we are heard," shares Max. From the second you set up your practice on YourCoach and prepare for your intake session, there are important first steps every coach should take. "Include pronouns in names and be respectful when talking to others, never assume someone's sexual orientation or gender identity," offers Max. "Be tolerant to all kinds of gender expression. Include you are LGBTQIA+ friendly in your professional profiles." 
When you're ultimately ready to have that first coaching session with clients, Max shares it's important to make conversations around sex not feel taboo. "This can be tricky because this is so layered but shaming sex is one of the many challenges the LGBTQIA+ community deals with. Sexual health, as we know in health coaching, is integral to overall wellness." 
In between coaching sessions, it's important to stay educated on how to be a better ally in and outside of your sessions (it's something we're working on as a YourCoach team every day). So where should we start? Max suggests tapping into resources or stepping up to volunteer through non-profits like The Trevor Project, GLAAD or local organizations like The LA LGBT Center. Overall, as true allies it's important not to be silent. "Show up as an ally and be a voice for the community – small or big. Learning enables you to be more sound client-facing but is equally powerful within peers and the coaching community. Make Pride month a reflective month but continue the learning before and after. Again, like other affinity groups it's so important to do the work ongoing." And as with anything, ask questions, "I think it's so wonderful to approach someone in the community appropriately and considerately ask questions on how to be a better ally. This is where the collaboration, support and magic happens."
At the organizational level, Gaurang Choksi, CEO of our longtime partner Violet, shares how they're making an impact (and how we're making an impact at YourCoach). 
As the first-ever health equity platform, Violet has been helping organizations (including ours!) upskill intercultural competencies for BIPOC, LGBTQIA+, and TGNC communities. It can be a powerful tool to help ensure care delivery organizations operate more inclusively. Shares Gaurang, "We believe that the ability to deliver inclusive care is a skillset that anyone can develop with intention and effort. With over 15,000 educational resources completed by the coaches and clinicians on our platform, we are seeing meaningful growth. 74% of our clinicians attest that they're more confident at speaking to race, gender, and sexual orientation with Violet's education on allyship, anti-racism, implicit bias, Trauma-informed care, SDOH, and much more." Violet has already seen encouraging results. "By seeing inclusivity as a skill, we are 'unlocking' a larger amount of providers and helping diverse patients get to the right care faster. We've seen a 14% increase in patient retention rates using Violet Benchmarks (i.e. our skilling data) for care matching diverse patients at month 1 of care."
At the YourCoach level, we've made Violet available as a benefit to all contracted coaches on our platform and have ensured health equity and DE&I is a critical component when verifying and validating health coaches for work with our Industry Partners. Every coach that contracts with YourCoach has access to ongoing LGBTQIA+ resources because of our partnership with Violet as well as experts within the coaching community, as strong cultural competency is one of our core values.
As Max so eloquently highlights, Pride Month is a reflective month, but the learning must continue before and after. We're tirelessly committed to this continued work so we can show up as better allies. Part of our mission to provide health coaching to the global population means we must continually ensure coaching is accessible and inclusive to all.