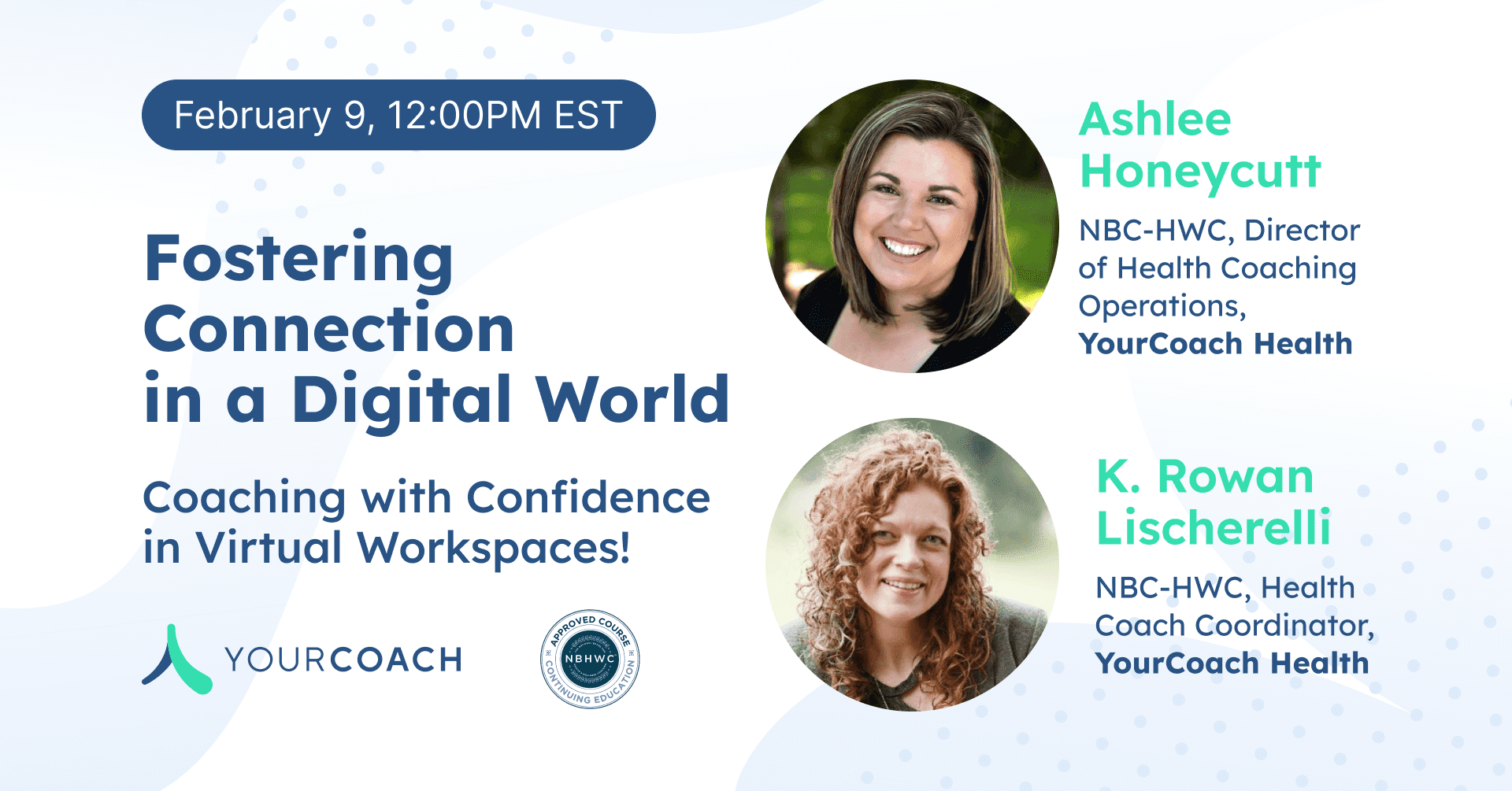 Digital coaching has blossomed in recent years and has enabled coaches to reach across geographical boundaries to help more clients than ever! Yet, coaching digitally can have its challenges – how do you effectively create connection? How do you foster a very human experience over technology? Join YourCoach Director of Health Coaching Operations, Ashlee Honeycutt and Health Coach Coordinator, Rowan Lischerelli for a 1-hour webinar that will explore the intricacies of digital health coaching, best practices, leveraging technology to develop solid rapport and engagement with clients, evidence-based protocol outcomes, and provide practical skills for efficient and outcome positive digital coaching.
This webinar is approved for 1-CEU by the NBHWC – you will receive the quiz after the webinar. All ticket sales go towards the Rita & Gene Presman Memorial Scholarship Program – we're committed to ensuring that cost is never a barrier to anyone who wants to become a National Board Certified Health and Wellness Coach. Please note that members of the YourCoach Coaching Community can attend this webinar (and receive CEUs) at no cost.
When and where
Date and time
Thu, February 9, 2023, 12:00 PM – 1:00 PM EST
Frequently asked questions
– How many CEUs can I get for this course?
– This course is approved for 1 CEU by the NBHWC – you can obtain the CEU by attending this event and filling out the post-webinar quiz.
– Can I attend the event if I don't need CEUs?
– Absolutely, you can attend at no cost. Please pick the General Admission – NO CEUs ticket
– How can I join the event?
– You will receive an email with the meeting link on the day of the event. You will also be able to join via this Eventbrite page.