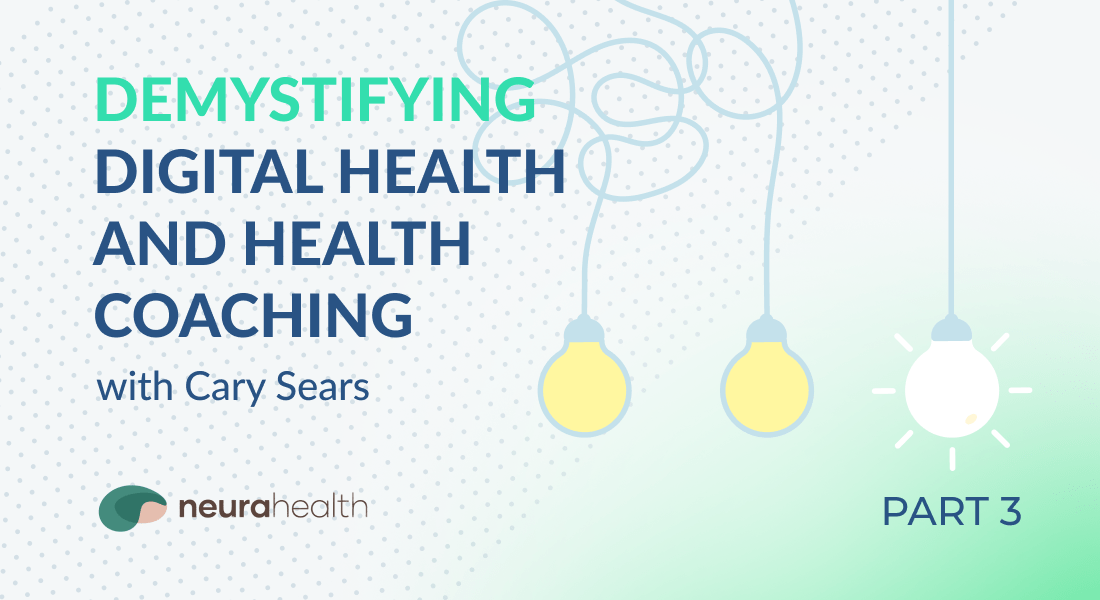 For the past decade, health coaching and digital health technologies have been co-evolving while transforming health & care worldwide. The two worlds are increasingly intersecting, offering more opportunities for health coaches, more personalized care for individuals, and a bright future for holistic health outcomes. In this mini-series, we're interviewing key talent at Digital Health companies to hear their perspectives on this exciting shift, the current opportunities for health coaches within the broader digital health and digital therapeutics companies and their projections for the future.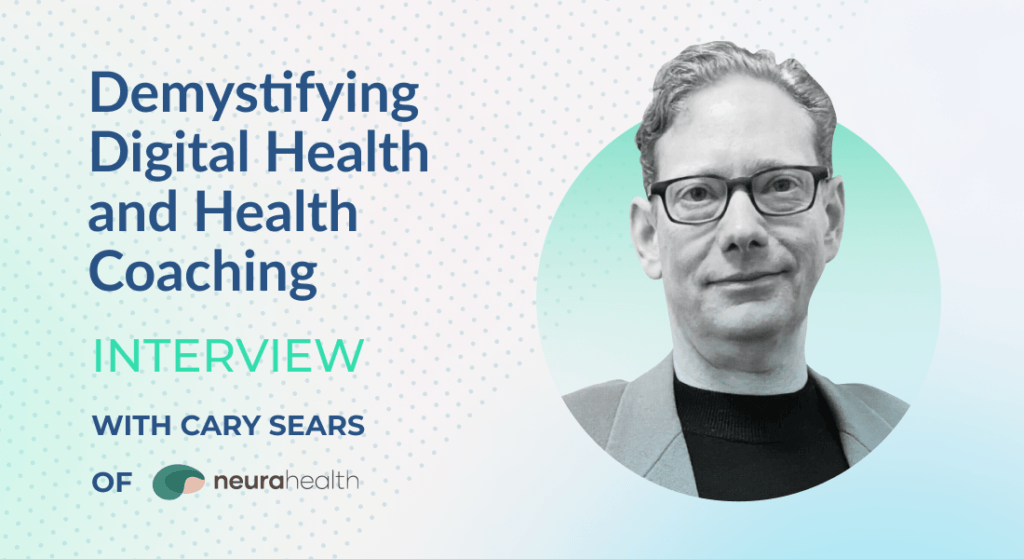 – Hi Cary! Tell us a little more about you!
– I'm the Head of Care Coaching for Neura Health, a virtual neurology clinic with a mission to improve the access and quality of neurological care: increase convenience, improve outcomes, and lower costs. I've always been fascinated by the connection between mind and body. When figuring out what I wanted to major in back in college, I happened upon the book, "Healing and the Mind" which looked at how thoughts and emotions impact health. After receiving my BA in Psychology, I went on to pursue a Master's degree in Experimental Psychology, exploring psychophysiology, biofeedback and other techniques to bridge physical and mental health. 
Beyond my studies, I've always had a deep desire to help people and work directly with them.  So after I graduated, I worked closely with people who were suffering from severe mental illness at several community agencies and conducted neuropsychological testing at a major medical center. These experiences eventually led me to health coaching, specifically the prospect of working with those suffering from chronic conditions, which ultimately became my major passion in life. I started off my health coaching career at Noom, eventually leading a team of health coach managers, and recently joined Neura Health to impact people living with chronic neurological illnesses.
– What's your why? What does Health Coaching mean to you?
– For me, my "why" is being able to be by someone's side, working with them to realize that better health outcomes are possible. Health coaches meet people where they are, free from judgment, in an individual relationship that evolves over time. Every health coach and client relationship is completely unique, shaped by that client's needs and goals, and a deep understanding of where health fits in the overall context of their lives. It's difficult for everyone to make changes even when we want to. Having someone that partners with you to provide support, accountability and tangible tools makes all the difference. Health coaching means guiding clients to tap into their own strengths, overcome personal barriers, and truly actualize holistic health. 
– Tell us more about Neura Health and its mission. 
– Neura Health is a virtual neurology clinic dedicated to delivering top quality care for headaches and migraine to anyone, anywhere. We connect patients to top neurologists in headache medicine, allow patients to track insights into headache triggers, prescribe medication when relevant, and recommend lifestyle changes to help patients in their journey to relief. Patients receive individual support from their own Care Coach to help them complete their personal care plans and 24/7 support team access. . Our mission is to improve the access and quality of neurological care: increase convenience, better outcomes, and lower costs. We're revolutionizing care for this chronic condition; especially since attending in-person doctor's visits can often be a barrier for someone suffering from chronic headaches and migraines. Our virtual model can be life-changing for ongoing treatment.
– What does it mean to be a health coach at Neura Health?
– Care coaching at Neura Health is very similar to the idea of health and wellness coaching, by essentially bringing health and wellness coaching into the medical practice. These coaches are integral members of the support team, working with medical practitioners to optimize individual care plans and health outcomes in every patient's individual journey to relief. At Neura Health, we understand that coping with chronic conditions like headaches and migraines can be an isolating experience. Having a care coach provides an unprecedented level of support, so that patients feel listened to and honored in their needs as they work towards experiencing relief.
– How do health coaches fit into your overall company mission? 
– At Neura Health, it truly takes a team to provide comprehensive care and care coaching is an integral part of our team based approach. The patient's neurologist prepares their care plan based on an individual patient's needs, which can include lifestyle changes like diet, stress management and mobility exercises. Patients then meet with a care coach regularly by video to craft an action plan and maintain accountability as they stay on track with their health goals. It's an important move from reactive to proactive care and offering patients truly individual support. 
– As we evolve through the pandemic, it's no secret that health coaches are playing a critical role in major shifts in health, care and overall wellbeing. How do you see health coaches further transforming the digital health sphere and healthcare more broadly? 
– I'm really passionate about digital health and its potential to help people with chronic conditions. It's really health coaches championing these innovations and I've seen firsthand how much personalized coaching, combined with the right technology, can change people's lives immensely. We're at a critical point where we can scale this to unimaginable levels, to overcome barriers of access and provide personalized care right to the homes of as many people as possible. It's important that health coaches recognize that when they do work with digital health  organizations like Neura Health, they are an important part of the care team and it's thanks to them that we're able to accomplish so much through digital health.
– We're firm believers that this year is the year of the Health Coaching Revolution! What health trends do you predict will take the mainstage in 2022? 
– As we spoke about, health coaches are definitely becoming more and more integral to digital health company models. I definitely think we'll start to see that trend break into private practice and medical systems as well. We're all seeing an increased demand from patients for holistic care that takes into account every aspect of their life. We're also seeing a growing burden on busy practitioners to spend adequate time with patients. I think health coaches can help immensely here, providing support where possible within their scope of practice so that patients can receive better access to and more from their care.