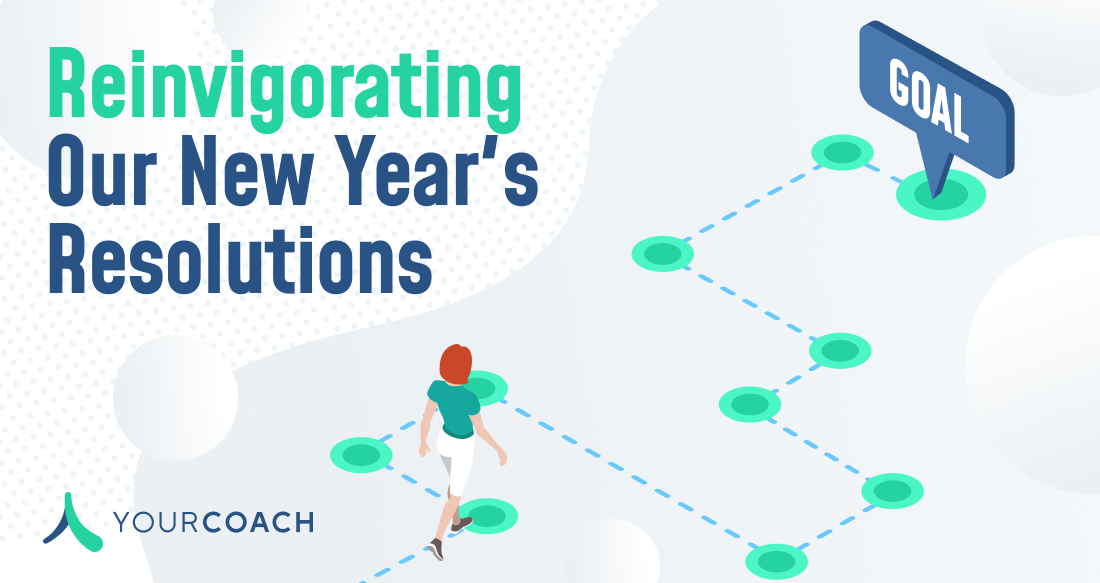 Checking in on New Year's Resolutions – Where We Are & What We've Learned 
We're a third of the way into 2023, so now's the best time to check in on those New Year's Resolutions! Clients often kick off the new year with zeal, ready to set goals to get them on a better track in the months ahead. As health coaches, it's important to keep this excitement going year-round, ensuring that New Year's goals don't get left back in January. 
This year, our team was led through a goal setting workshop with Ashlee Honeycutt, NBC-HWC and Director of Health Coaching Operations here at YourCoach and Rowan Lischerelli, NBC-HWC and our Health Coach Coordinator. They shared health coaching techniques that have helped their clients with goal setting and consistency and created a chat to help the full YourCoach team stay engaged with their goals. 
Our team accomplished some major wins—and recognized some important benefits of health coaching in real time. In today's blog, we're excited to celebrate some of these milestones and share best practices in the hopes that they inspire our coaching community, their clients and those we reach through our Industry Partnerships. 
Marina, CEO & Founder: My goal for this year was to bring in different types of movement. For me, this meant incorporating pilates five times per week in addition to some of my favorite activities like spinning and boxing. I'm happy to share that I've been able to maintain consistency despite lots of recent travels, thanks to quick video workouts that I can really do anywhere. I'm grateful to have my partner in life and business, Eugene, as well as my phenomenal team to hold me accountable to these goals which I'm sure has helped me find success. 
Marina's Health Coaching Takeaway: Health coaches are important accountability partners. Their presence alone through regular sessions and even regular check-ins through the chat feature on the YourCoach platform keeps clients motivated to succeed.
Ashlee, Director of Health Coaching Operations: My goal was to journal in the mornings and I was doing this consistently through February. When things started getting tough to maintain, my colleague, Rowan led me through a coaching session which helped me realize how to integrate this practice into my daily life in a way that would be more sustainable. Most mornings I immediately need to start my day by walking my puppy—which means when I get back to my home all I want to do is dive right into work. This didn't leave much time for journaling. What Rowan helped me realize is that I can use the talk-to-text feature on my iPad (the Voice Notes feature within the YourCoach platform can also be a helpful tool!) to capture the many thoughts buzzing through my head while I'm on my walks. This has helped me hugely!
Ashlee's Health Coaching Takeaway: Health coaches can help you take stock of your day-to-day habits to help you find a better way to integrate new habits without disruption.
Rebeka, [Media & Community]: One of my resolutions was to find more movement in my daily life and I'm excited to share that I've been doing that quite consistently in the new year. For me, I need habits to make sense. There needs to be a pervasive feeling powering up my why when I pursue a new habit. With movement, I recognized that I actually feel better when I move more, so I use this feeling as my motivator. 
Rebeka's Health Coaching Takeaway: Part of the evoking process of health coaching requires clients to visualize how they'll feel and make sure their goals are taking them in that direction. This often leads to strong successes and more consistency with clients. 
Nina, UX/UI Researcher: In the new year, I really wanted to discover a faster-paced sport and incorporate that regularly into my routine at least three times per week. I've always been a yoga person, so I wanted to push myself to do something different. During our goal-setting session with Ashlee and Rowan, we were pushed to pursue just five minutes of our goal and this really helped me. I started with just five minutes on the stationary bike. Sometimes five minutes turned into an hour on the bike, and sometimes it was just enough for me. It felt good to feel like I was getting that movement in my life and achieving my goal without it being overwhelming.
Nina's Health Coaching Takeaway: Breaking down goals into attainable, bite-sized pieces can be a really helpful place to start for most clients. The YourCoach platform offers Tasks and Goals features so you can set longer-term Goals, like getting more movement, while also breaking them down into manageable Tasks, like walking for five minutes each day. We've found lots of success with clients through the combined use of both features and host regular onboardings to ensure coaches are using each to their full potential. 
Stacey, Head of Product: My goal was to meditate every day and if I'm being honest, I'd say I've achieved that with about 50-60% consistency. I'm really working on getting that to 100% and what's helped me is a few things. First, I've set some OKRs, objectives and key results, for my own mental and physical health and wellbeing. So my end-goal isn't just to meditate, it's to become more balanced. In that way, it feels like my goals are a part of a bigger picture. I've scheduled four weekends per year when I plan to focus on self-care and nothing else–-and part of those weekends is reviewing where I am with these personal OKRs. 
Stacey's Health Coaching Takeaway: Health coaching is so effective because you pre-schedule times to check in with clients and help them assess where they are with their goals. In addition to pre-booking regular sessions with clients within the YourCoach platform, maybe consider scheduling one of those sessions to be a bigger picture "where are we now" meeting, where clients can take full stock of their goals, progress, and how that's affected their lives so far. 
Anastasia, [UX/UI designer]: My goal was a bigger one—it was to move myself and my family to a new place that would offer a safer, healthier environment for us. I can honestly say that the full YourCoach team gave me the courage to accomplish this major life change and I couldn't have done it without them. 
Anastasia's Health Coaching Takeaway: Health coaches can be massively effective because they offer an added layer of support and consistency for their clients that can be highly necessary when achieving difficult goals. 
Shako, Web/Mobile Developer: As a developer, I spend a lot of time at my computer. Naturally, my big goal for the year was to get more time outside. For me, my biggest motivator was just being tired of how much time I was spending at home. I started making time—by going to bed earlier and waking up earlier—so I had the time to go outside for a quick walk. 
Shako's Health Coach Takeaway: Health coaches help clients get to their biggest motivators so they can leverage those to impel successes. For some clients, the biggest motivator can sometimes be frustration or discomfort with the status quo. Coaches can use these emotions to inspire lasting change. 
We know that health coaching can have a massive impact on whether clients meet their goals consistently. In addition to our team, we're excited to see successes from individuals we've engaged through our Industry Partnerships and are confident to be celebrating more wins as the year progresses.
In addition to supporting the largest tech-augmented army of validated and credentialed health coaches, we've also cultivated best-in-class features—like our Tasks, To-Dos, Goals, and Food Diary—to help both coaches and clients track their goals, progress and success. Altogether, this shapes YourCoach into an environment where New Year's Resolutions become a reality.