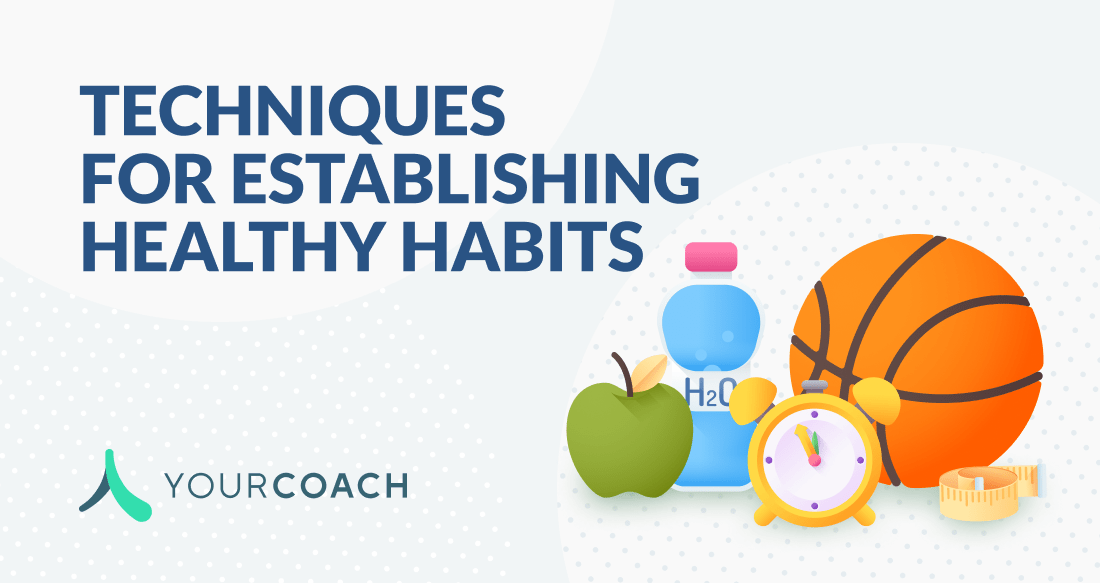 One of our most important goals as health coaches is to help clients establish lasting health habits. Easier said than done. The key to unlocking a new habit is by starting with a positive, "can-do" mindset and leveraging science-backed techniques for success. 
Now is a great time to revisit establishing habits with clients as many of us wind down from summer and seek out new routines for the fall. This "back-to-school / back-to-your-schedule" mindset can be used to your clients advantage. Today, we're sharing some important habit-setting techniques you can use with clients and how to hone in on the "back-to-school" mindset for more lasting change.
Habit Stacking
Habit stacking is a well-established behavioral strategy that links an existing habit to a new one–taking advantage of pre-existing neural pathways to "lock-in" this new habit. For example, if your client wakes up every day with a cup of coffee or tea, encourage them to pair the act of brewing their caffeinated-beverage-of-choice with filling up their daily water bottle. In this way, your existing habit—brewing your coffee—serves as a powerful cue for your new health habit, drinking more water. 
Especially now that many clients are resetting their daily schedules after the summer, take stock of their new schedule and where there may be opportunities to stack new health habits.
Establish Cues
Habit stacking leverages just one sort of cue to perpetuate a new habit, but cues come in many shapes and forms and can be critical to ensuring that a habit sticks. The "habit loop" is a staple in behavioral science, asserting that every habit begins with a cue, followed by an action and then a reward. 
Cues can be simple and can set in motion both positive and negative habits. For example, you see an advertisement for a new jacket, are prompted to follow the link, make the purchase and feel an instant rush of dopamine. Cues can also be compounded and more complex—maybe you're a teacher and it's nearing lunch. You see it's noon and shortly thereafter hear the lunch bell ring, two cues that trigger your hunger cues and prompt you to reach for a satisfying snack.
As a health coach, it's important to take a thorough assessment of your clients' routines, understanding their existing cues (positive and negative) so you can break unproductive habits and establish healthy ones.
Start Small & Specific
Health coaches are experts at setting SMART goals, which require any new health habit to be specific, measurable, attainable, relevant and time-based. This same model holds true for habits. 
Moreover, science has shown that setting small "micro-habits" can lead to more success in the short and long term. For example, maybe joining a new exercise class four times a week may feel intimidating for clients. Instead, challenge them to walk for twenty minutes, four times a week, every week. Consistency is key to setting habits and building confidence. Starting with smaller goals make more intimidating habits seem attainable.
Grant Yourself Grace
This absolutely goes without saying, but health coaches are support systems. While it's absolutely our goal to encourage clients to keep their habits, it's also our job to help maintain their positive mindset when habits start to slip. Remember to foster an environment where clients never feel embarrassed to share losses as they do wins and to remind them that with every new day comes a new opportunity to meet their goals.